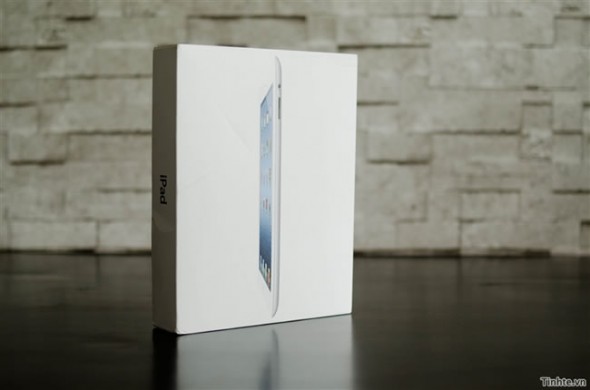 Although Apple is keeping the new 3rd generation iPad (a.k.a. iPad 3) under lock and key until the official March 16 release date, a pair of Vietnamese tech journalists managed to snatch an early copy.
As normally happens in these cases, the pair has duly unboxed the new iPad, which is a 16GB 4G model by the way, in front of a camera and also ran a quick benchmark. No surprises with the unboxing, the new iPad comes in pretty much the same box as the iPad 2, and you still get a power adapter and a USB to 30 pin connector cable. But anyone anxious for some early retina display action is welcome to the 4 minute video just below, and we're sure you won't mind that it's in Vietnamese.

The pair also got a chance to run the Geekbench benchmark on the new iPad and has verified some until-now unconfirmed specs. The A5X chipset inside the new iPad is a tweaked version of the A5 found in the iPad 2. We already knew that it was packing a dual-core CPU like the A5 but with a quad-core graphics unit in order to handle the quadruple resolution of the new retina display. Well, it's now been confirmed that the A5X CPU is running at 1GHz, the same speed as the A5.
It's also been speculated that the new iPad is packing 1GB of RAM, twice that of its predecessor, again to be able to handle the increasing demands of the new display. Well you can check that as confirmed now too. Overall the 3rd generation iPad scored 756 in the benchmark, similar to an iPad 2, which makes sense since essentially the two are running on the same CPU. Geekbench doesn't include a graphics test, so at the moment we still don't know if the increased screen resolution will have any effect on graphics performance.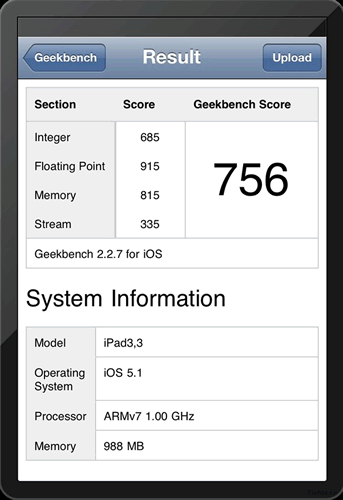 As we've mentioned the new iPad will hit the streets on March 16, and you'd be ill-advised to stand in queue outside Apple's stores and risk disappointment. Best way is to order online, though mind you we are currently looking at delivery times of 2-3 weeks.
[
Source
(Vietnamese)]