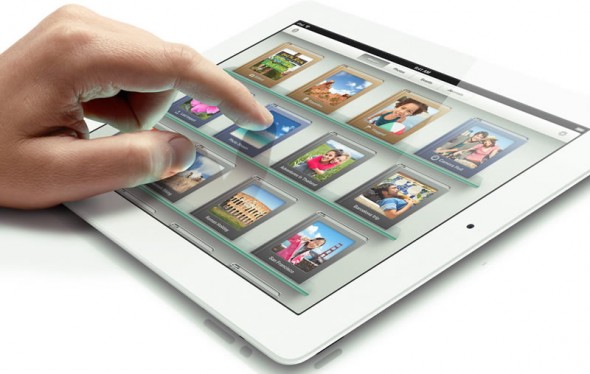 So the well published Apple event is under way and the company has finally come clean with its updated tablet. The third-generation iPad is called just that, iPad — Apple chose not to name it iPad 3 or iPad HD as was previously rumored.
The new iPad comes with a very high resolution 2048 x 1536 display, with four times the number of pixels found in the iPad 2. Apple is calling its 264 pixels-per-inch density display, retina worthy.
To drive such a high resolution one needs a powerful graphics unit and the third-generation iPad comes with a new A5X chipset featuring quad-core graphics that's two times as potent as the one found in the iPad 2. Apple is also claiming that the A5X graphics unit is four times as fast as the quad-core Tegra 3, a pretty bold statement.

The new iPad also gets a new back camera with a 5-megapixel backside illuminated sensor and a five element lens. US shoppers are also looking at the possibility to grab a 4G LTE enabled model from AT&T or Verizon.
Despite the increased hardware demands from the new display, Apple has managed to keep the new iPad almost as thin and light as the iPad 2. The new version measures 0.37 inches (9.4mm) thick, just 0.03 inch thicker than the iPad 2 and weighs 1.44 pounds (652g). Battery life is also maintained at 10 hours, going down to 9 hours for the LTE version.
A summary of all the new features:
A5X with dual-core CPU and quad-core GPU
9.7-inch 2048 x 1536 resolution display
iSight camera with 5MP sensor and advanced optics, including IR filter, autofocus, face detection, and white balance
HD video recording (1080p resolution)
Voice dictation (no Siri for the iPad)
4G LTE and HSPA+ support
10 hours battery life (9 hours on 4G LTE)
1.44 pounds (652g), for the Wi-Fi only version, 0.37 inches (9.4mm) thick
You can get the Wi-Fi only version for $499, $599 and $699 for 16, 32 and 64GB capacities. The 4G LTE iPad goes for $629, $729, and $829 respectively.
Pre-orders start today for the  US, Canada, United Kingdom, France, Germany, Switzerland, Japan, Hong Kong, Singapore and Australia. The new iPad will be shipping on March 16th.