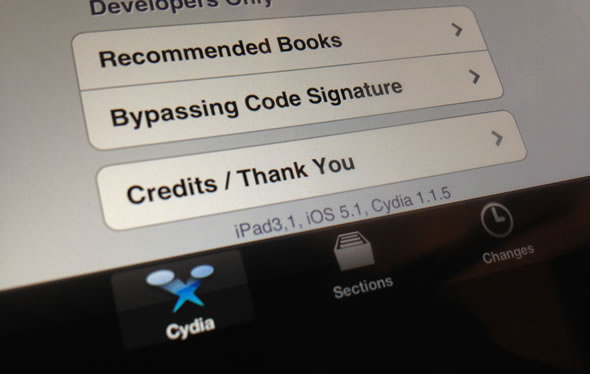 There was much hope that a jailbreak for A5 and A5X devices, that's the iPhone 4S, iPad 2 and the 3rd generation iPad, running iOS 5.1 would materialize soon after the new iPad's release. After all, just a few hours following the official release of the new iPad three different jailbreak methods were demonstrated and confirmed.
Two weeks later and there haven't been any updates on a public release of a jailbreak yet. Now it would seem that we might still be weeks away from a usable public jailbreak for iOS 5.1 and that's unfortunate news for new iPad (3) owners itching to install Cydia and 3rd party apps on their retina-touting tablet.

Pod2g from the Chronic Dev Team has tweeted that the team has some pieces of a very tasty userland untethered jailbreak for iOS 5.1 on A5 and A5X devices but they are missing other pieces and are weeks away from a potential public-ready tool. Bear in mind that it was Chronic Dev with Stefan Esser (a.k.a. i0n1c) who showed one of the three iPad jailbreaks two weeks ago.
Here's what pod2g wrote on Twitter:
About 5.1 jailbreak for A5+ devices : it's not out and I have no clue when it'll happen. I'm working some hours per week on finding vulns.
But right now we (cdev) have some pieces of a userland jailbreak, but we miss some, and even if we had them all, there's weeks of work…
… to put them all together in a public ready tool.
So if you've been itching for a jailbreak on your new iPad you can stay with the hope that at least iOS developers are hard at work in liberating your tablet.