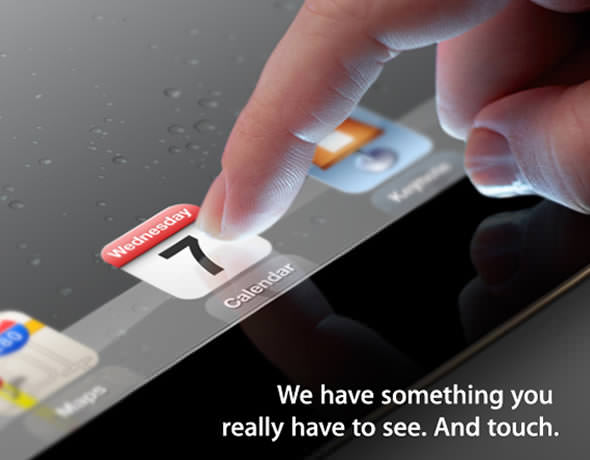 Stuff-Review was the first to consider that the iPad HD (a.k.a. iPad 3) could have some form of advanced haptic feedback. Our speculation was based on the iPad event invite, which calls for something new to see and touch. Apple is no stranger to this technology since it has been doing its own research, and it would just really make sense to have tactile feedback technology in the iPad.
Advanced haptics would enrich the iPad experience by bringing the sense of touch to the mix. It would make typing on the iPad akin to typing on a physical keyboard, provide tactile feedback on user interface interactions and it would bring gaming to a whole different level. Then you never know what else might come up from enterpreneuring app developers.

Haptics have so far been restrained mostly to vibrations caused by a small electric motor inside devices. Well, it has been tipped that the potential technology in the iPad HD will be coming from Senseg. Senseg's technology, called Senseg Tixel, works in a completely different way. It uses Coloumb's force, i.e. the attraction between electrical charges, to change the attractive force between your finger and the touch display.
By changing the electromagnetic field and hence these attractive forces, it can potentially even simulate different textures. The technology doesn't rely on any moving parts and can be scaled to any screen size. Senseg founder Ville Makinen said:
By engaging the sense of feel, Senseg brings a new dimension of interaction to touch interfaces. We can now feel the pluck of guitar strings in a music app, feel sand when accessing images of the Gobi Desert, or feel the corner of a page when reading a book on a tablet. Content producers can engage their users with tactile experiences that complement their sound, text and images.
Senseg technology is also silent so you can forget about the annoying buzzing sound attached to other haptic technologies.
We've been following haptic feedback tech for a while and I'll be very excited to see broader scale adoption of the technology. Personally I think this would be of equal importance to the user experience as the inclusion of the rumored 2048×1536 retina display in the iPad HD.
[
Senseg
]