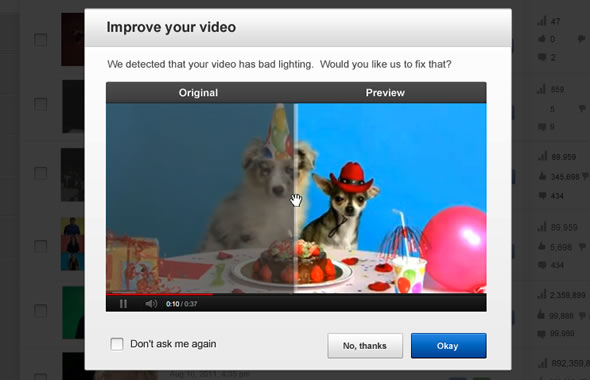 When Google bought a lesser-known digital video technology company called Green Parrot Pictures last year we were promised that some awesome automatic video enhancement technology would be coming to YouTube. It seems Google has been working hard in implementing this image processing technology on YouTube and today we get a look at the first set of improvements.

Now if you upload a video on YouTube that's shaky or underexposed the website will offer to automatically fix it for you. It will then show you a side-by-side preview of the result where you can accept the edit. Even if you upload a video from a mobile device that can be augmented with this new technology then YouTube will alert you once you login on the desktop version of the website.
This is a pretty neat feature as one thing that can make a video unwatchable is camera shake. The one-click fix will be rolling out over the next few days and Google warns us that it's got even more neat features in the pipeline.
YouTube Blog
]