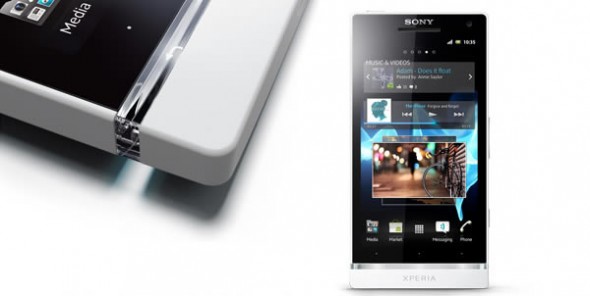 The Sony Xperia S began its lengthy road to the market back in November, when it was it was initially known as the Nozomi. Well the Playstation-certified Android smartphone has finally started shipping today to retailers globally.
We have to admit that the Xperia S is one of the best looking smartphones out there, thanks to its unique translucent navigation bar running along the bottom half — though still not as good looking as the Xperia Glass concept.

The Xperia S is shipping with Android 2.3 Gingerbread, but thankfully it should be updated to the latest and greatest Android 4.0 Ice Cream Sandwich later in the spring.
As a reminder, the Xperia S features a 4.3-inch 720p optically laminated display, 1.5GHz dual-core Qualcomm Snapdragon processor and 1GB of RAM. There is a 12.1-megapixel back-lit sensor rear and 1.3-megapixel front cameras. Sony is also pushing its NFC SmartTags, touching the smartphone on one makes it perform a preprogramed series of actions, like turn on Bluetooth and GPS and run navigation software when you enter a car.
The contract-free version of the device runs around $600-700 but will vary between regions. If you are looking for a carrier-subsidized version in the U.S. the device should soon arrive on AT&T as the LTE-enabled Xperia Ion, which however unfortunately loses the cool transparent bits.
Sony Xperia S and Smart Watch hands-on demo