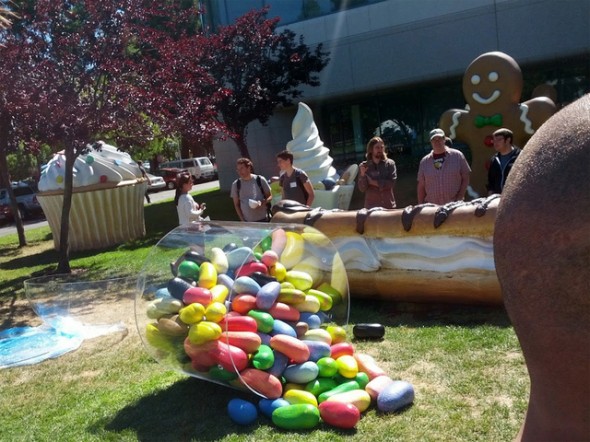 Well it can't get any more official than this. We've been hearing and we've speculating on Android Jelly Bean (or Jellybean) since last year and with its official unveiling just a day away a new sculpture has taken its place on the lawn in front of Building 44 at Google's Mountain View campus.
The pot of giant spilled jelly beans that you see above was spotted this morning taking it's place next to the infamous Cupcake (Android 1.5), Donut (1.5), Eclair (2.0/2.1), Froyo (2.2), Gingerbread (2.3), Honeycomb (3.x) and finally Ice Cream Sandwich (4.0) mascots.

Jelly Bean has more or less been confirmed as Android 4.1, so it should be more of an incremental step to Android 4.0 Ice Cream Sandwich, instead of the huge amount of new features we saw during the introduction of the latter.
As with previous Android iterations, Android Jelly Bean will be partnered with a new Google Nexus device, the 7-inch Nexus 7 tablet made by ASUS that will probably be a $200 Kindle Fire competitor.
Not too much longer to wait, you can view the day one keynote live at 9:30AM Pacific Time on Wednesday, June 27th.
[
Google+
]