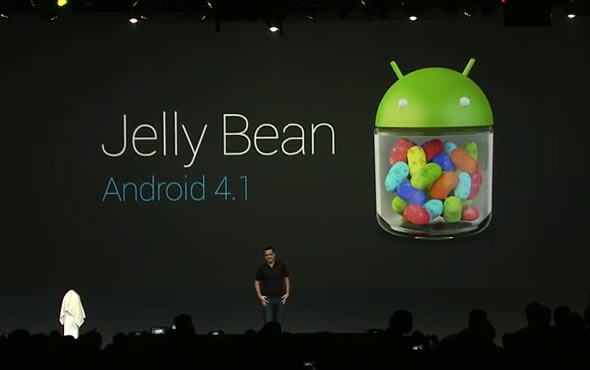 Android 4.1 Jelly Bean has just been announced on the stage of the opening keynote of Google I/O 2012.
Here's a summary of what's new:
Project Butter worked on performance and will make the Android experience much smoother thanks to faster rendering with the GPU and CPU working in parallel.
Icons move out of the way when you are moving other icons in or even widgets and widgets can auto-resize into available space.
Finally, you can voice type without a data connection!
Smarter notifications bar, so that you can start actions within it like calling back or sending a text or acting on reminders. You can even expand notifications with a multitouch gesture (two-finger drag) for rich contents. It works with other apps too, like tunein and Pulse.
Better and faster voice search that now works with natural language, like Siri.
A better Google Search experience called Google Now which provide rich and smart info on what Google calls 'smart cards'. It can tell you which buses will arrive when you are standing at a bus terminal, calculate the time needed for your usual commute and give you a faster route if there is one based on live traffic, keep you up to date with a flight you recently searched for and more. The more you search, the smarter Google Now becomes. Pretty amazing stuff.
Android 4.1 Jelly bean will be coming to the Galaxy Nexus, Motorola Xoom and the Nexus S in mid July as an over the air (OTA) update but the SDK will be available today as a developer preview.
There are also a large number of changes to Google Play including a lot more content and now tv and magazines. We've particularly noted smart app updates, so that your device only downloads the part of an app that has changed, supported for Gingerbread and above, saving you battery and bandwidth.