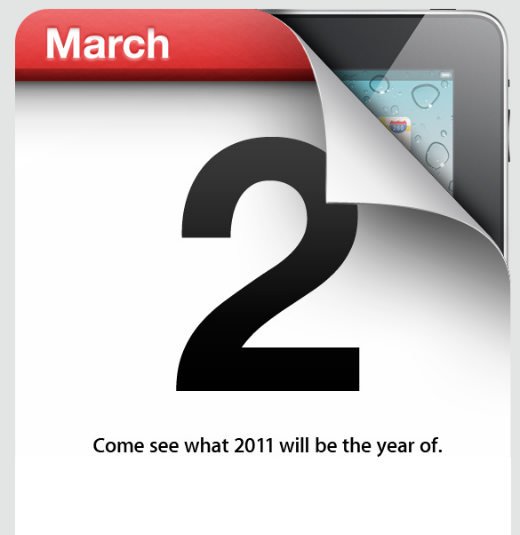 Apple's special media event is just one day away, taking place at 10AM Pacific time on Wednesday March 2nd. Although the event invitation doesn't explicitly detail what the event is about, however as you can see from the image above, there's a very apparent hint, which has re-affirm the rumor mill for an iPad refresh.
Many sources have been unofficially reporting that during tomorrow's event, Apple will introduce the next generation of the iPad (a.k.a. iPad 2) while it's also speculated that the next major version of its operating system, iOS 5, will also be previewed during the event. The timing of the event is in line with past events by Apple done during the same period in previous years for iOS updates. The iPad was introduced by Apple in January 2010 and was available for sale in early April. There are also reports that Apple has now stopped production of the original iPad and that it has halted new shipments to retailers.

So what's expected to land on the iPad 2? Well first and foremost, a front facing camera, which would relieve all those dying to do their video chatting on a bigger screen. Most importantly however, the iPad should also be getting a brand new CPU and GPU to help speed things up, the new CPU is expected to be a dual-core Cortex A9-based processor, bringing the iPad up to spec with latest Android devices. Finally as with most Apple refreshes, the next generation iPad is expected to be thinner and lighter as well!
So to summarise, the iPad 2 is expected to be faster, thinner, lighter and sporting a camera.
On the other hand initial rumors that the new iPad will also be sporting a high-resolution 'retina' display have now been retracted and the latest feeling is that the retina display has not made the final product.
In all cases we are pretty excited to see what Apple has in-store for tomorrow and we'll keep our eyes on the event.