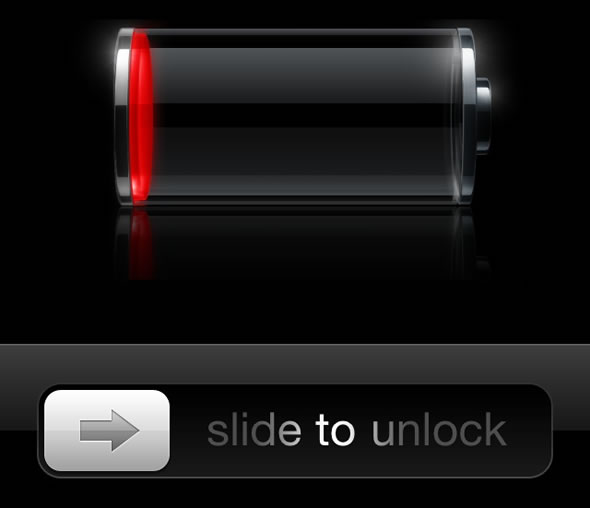 Although not yet up to 'battery-gate' status, a lot of antagonized iPhone 4S owners are complaining of very poor battery lives. You only need to take a look over at Apple's Support Communities and you will find a host of threads with issues related to fast battery drain under standby and short battery lives. There are also some iPhone 4 and iPhone 3GS owners who have upgraded to iOS 5 and are also facing similar issues, so this might not be an issue with the iPhone 4S hardware but rather an issue with the new iOS 5 operating system.

One user posted:
I've been using this phone since launch day, noticed the battery drain, but thought it needs times to calibrate like any new battery + i've been rinsing all it's features an Siri integration.

But this morning I'm a little concerned. took it off charge at 6:45 (100%), returned to the phone 20 minutes later and it was at 92% !
While another has said:
I bought my 4S on launch day and it burned 10-15% an hour. In standby mode. I got an empty battery with almost no use just after 6 hours. Empty.
If you are facing poor battery life, then it's at least good to know you are not alone. Potential problems could be stemming from iOS 5 more aggressively using GPS location services, constantly syncing with iCloud or iTunes Wi-Fi sync. Whatever the culprit might be, Apple is aware of the problem and is looking into it. The Guardian has reported that one iPhone 4S owner has been contacted by a senior Apple engineer who acknowledged the issue and asked to receive some information to investigate the issue further.
For now, Apple is recommending that iPhone owners running iOS 5 try the following:
Minimize use of location services: Applications that actively use location services such as Maps may reduce battery life. To disable location services, go to Settings > General > Location Services or use location services only when needed.
Turn off push notifications: Some applications from the App Store use the Apple Push Notification service to alert you of new data. Applications that extensively rely on push notifications (such as instant messaging applications) may impact battery life. To disable push notifications, go to Settings > Notifications and set Notifications to Off. Note that this does not prevent new data from being received when the application is opened. Also, the Notifications setting will not be visible if you do not have any applications installed that support push notifications.
Fetch new data less frequently: Applications such as Mail can be set to fetch data wirelessly at specific intervals. The more frequently email or other data is fetched, the quicker your battery may drain. To fetch new data manually, from the Home screen choose Settings > Mail, Contacts, Calendars > Fetch New Data and tap Manually. To increase the fetch interval, go to Settings > Mail, Contacts, Calendars > Fetch New Data and tap Hourly. Note that this is a global setting and applies to all applications that do not support push services.
Turn off push mail: If you have a push mail account such as Yahoo! or Microsoft Exchange, turn off push when you don't need it. Go to Settings > Mail, Contacts, Calendars > Fetch New Data and set Push to Off. Messages sent to your push email accounts will now be received on your phone based on the global Fetch setting rather than as they arrive.
Auto-check fewer email accounts: You can save power by checking fewer email accounts. This can be accomplished by turning off an email account or by deleting it. To turn off an account, go to Settings > Mail, Contacts, Calendars, choose an email account, and set Account to Off. To remove an account, go to Settings > Mail, Contacts, Calendars, choose an email account, and tap Delete Account.
Turn off Wi-Fi: If you rarely use Wi-Fi, you can turn it off to save power. Go to Settings > Wi-Fi and set Wi-Fi to Off. Note that if you frequently use your iPhone to browse the web, battery life may be improved by using Wi-Fi instead of cellular data networks.
Turn off Bluetooth: If you rarely use a Bluetooth headset or car kit, you can turn off Bluetooth to save power. Go to Settings > General > Bluetooth and set Bluetooth to Off.
Use Airplane Mode in low- or no-coverage areas: Because your iPhone always tries to maintain a connection with the cellular network, it may use more power in low- or no-coverage areas. Turning on Airplane Mode can increase battery life in these situations; however, you will be unable to make or receive calls. To turn on Airplane Mode, go to Settings and set Airplane Mode to On.
Adjust brightness: Dimming the screen is another way to extend battery life. Go to Settings > Brightness and drag the slider to the left to lower the default screen brightness. In addition, turning on Auto-Brightness allows the screen to adjust its brightness based on current lighting conditions. Go to Settings > Brightness and set Auto-Brightness to On.
Turn off EQ: Applying an equalizer setting to song playback on your iPhone can decrease battery life. To turn EQ off, go to Settings > iPod > EQ and tap Off. Note that if you've added EQ to songs directly in iTunes, you'll need to set EQ on iPhone to Flat in order to have the same effect as Off because iPhone keeps your iTunes settings intact. Go to Settings > iPod > EQ and tap Flat.
Are you also facing issues with you iPhone 4S or iOS 5 upgraded iPhone?
[
The Guardian
]