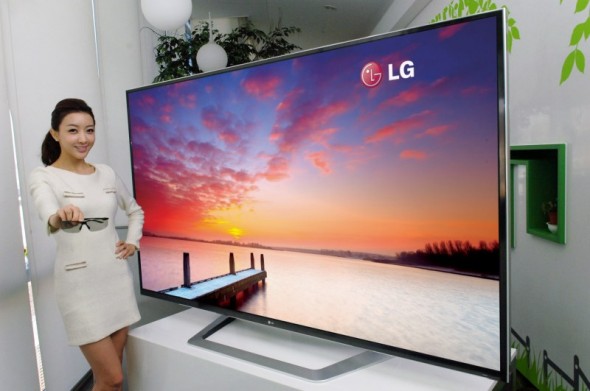 Manufacturers just love to shout largest, and LG is certainly in a record breaking mood today. LG Electronics has just unveiled the world's largest 3D Ultra Definition (UD) TV. By Ultra Definition the company suggests a Quad Full High Definition (QFHD) resolution of 3840 x 2160 pixels, which doubles the number of pixels of 1080p on each axis. That's equivalent to four 1080p TVs stuck together, though not up to a full 4K resolution (which would mean at least 4,000 pixels on the horizontal axis).
The 84-inch behemoth is promising an immersive 3D experience, which we are inclined to believe, and something that LG will be happy to demonstrate at CES 2012 in Las Vegas. The TV will have access to LG's Smart TV ecosystem with over 1,200 apps and some video content. It's also set to come with a new Magic Remote with voice recognition and magic gestures. Well, there's only two weeks left to CES 2012 where we will know more.

Official press release:
LG'S 3D UD TV PRESENTS IDEAL COMBINATION OF IMMERSIVE 3D WITH UNRIVALED DISPLAY QUALITY
With Industry-Best 3D Technology and Ultra Definition Display,
LG's 3D UD TV Raises the Bar for 3D Experience in the Home

SEOUL, Dec. 29, 2011 – LG Electronics (LG) will unveil the world's largest 3D Ultra Definition (UD) TV at the Consumer Electronics Show (CES) in Las Vegas. By combining LG's industry-leading 3D technology and Smart TV function with UD display technology, the 84-inch TV breaks new ground in immersive 3D home entertainment.

"LG is pushing the limits of home entertainment innovation with this 3D UD TV," said Havis Kwon, President and CEO of LG Electronics Home Entertainment Company. "We are bringing together all our Smart TV and 3D knowledge in the 3D UD TV in order to demonstrate to the CES audience that LG is committed to being the world's leading brand for immersive home entertainment in 2012 and beyond."

LG's 3D UD TV boasts superb picture quality with 8 million pixels, four times the resolution clarity (3840×2160) of existing Full HD TV panels. Combined with LG's Slim and Narrow Bezel Design, the 3D UD TV provides the most convincing 3D viewing experience currently available outside of a movie theater. What's more, 3D Depth Control allows users to customize their viewing experience by controlling the 3D effect while 3D Sound Zooming provides users with 3D sound that rivals the output of all but the best home theater systems.

Via the superior display panel, users can access LG's Smart TV ecosystem, which comprises over 1,200 apps and gives users access to a growing range of premium content services such as the 3D Zone where viewers can select from a wealth of 3D movies. The imbedded 2D to 3D conversion engine expands the availability of 3D content to limitless levels. Users can easily browse and navigate the Smart TV ecosystem using LG's new, ergonomically-designed Magic Remote which now recognizes four different types of command input: Voice Recognition, Wheel, Magic Gesture and Point.