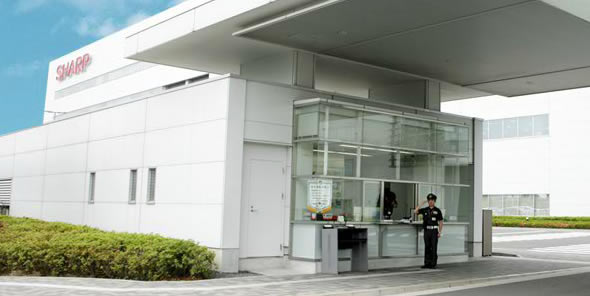 Sharp has just announced that it's ramping up production of the world's first LCD panels using advanced indium gallium zinc oxide (IGZO) semiconductors at its Kameyama Plant No. 2 in order to meet increased demand. Production of the panels began in March 2012 and the IGZO technology allows Sharp to produce LCDs with high pixel density but lower energy consumption because of the smaller thin-film transistors and increased pixel transparency.
Sharp was long rumored as an Apple partner providing the retina displays in the 3rd generation iPad. However as the IGZO technology was too young, the company couldn't yet mass-produce the 10-inch 2048×1536 panels required for the new iPad. Apple finally went with the same IPS LCD amorphous silicon panel technology as in the iPad 2, but the new iPad retina panel now consumes 2.5-times the power at the same brightness. To compensate Apple has loaded the new iPad with almost double the amount of battery, meaning that it takes much longer to recharge the iPad 3, and it's also slightly thicker and heavier.

I have no doubt that the next iPad will feature a display technology like Sharp's IGZO LCD panels, bringing power consumption back down again, and one of the three LCD panels Sharp has revealed is just the right 10-inch 2,560×1,600 panel. It's highly likely that the panel will be picked up by Apple's competitors in the tablet space in the meantime.
Sharp's sample specs also include a 7-inch model with 217ppi pixel density that could be ideal for a smaller iPad. A 7 or 8-inch iPad has long been rumored and the IGZO would allow Apple to build a svelte little tablet.

The final panel revealed is a 32-inch QFHD (3840×2160) panel for LCD monitors. Though other technology websites are speculating the panel could be used in Apple's oft-rumored iTV television, I doubt the company would try to enter your living room with such a small-screened TV. The panel would make for some great computing and gaming real estate though.
[
Sharp
]