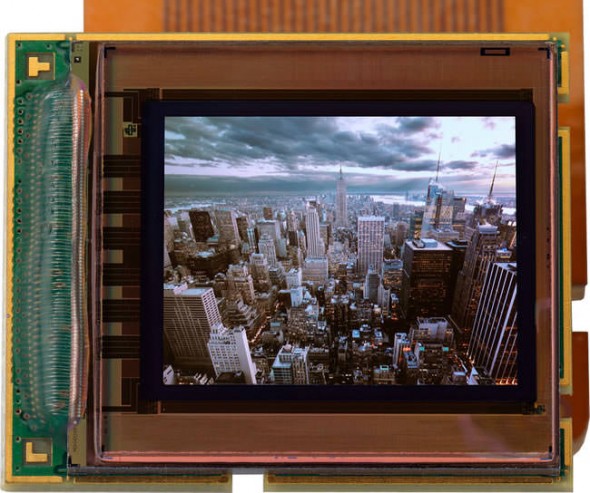 Last year we were pretty excited with the new Sony OLED electronic viewfinder (EVF), which we tested on the Sony A65 camera, and can also be found in the Sony A77 and NEX-7.
The 0.5-inch ECX331A XGA (1024×768 RGB) 2,400k dot Sony OLED panel found in the above cameras, had at the time the highest resolution and pixel density of any commercial microdisplay. The benefit is that it provides an incredibly clear image, finally challenging optical viewfinders.
We've been championing electronic viewfinders as the future replacement to optical viewfinders in cameras, for some time now, because they offer certain clear advantages. First of all you can do away with the typical reflex mirror used to reflect part of the oncoming light from your lens to the pentaprism in optical viewfinders; as a result, you get more light onto your sensor and a more compact camera – see mirrorless cameras.
An EVF can also be more informative and customizable, with overlay information, and because you are effectively always looking at what the camera CMOS sensor is seeing, you have an exact live preview of what you will be shooting when you press the shutter button.
Until recently however, EVFs generally sucked, you had a pixelated image with a lot of lag and usually bad color reproduction and poor contrast.

That's why we were so impressed with Sony's new OLED panel, as it minimized all of the above issues. It has a sub-pixel pitch of 3.3μm x 9.9μm for each of the Red, Green and Blue sub-pixels for an effective 9.9μm pixel pitch (size of each pixel). In comparison, the iPhone 4S with a 3.5-inch 960×640 resolution display has a pixel pitch of 77.1μm.
Besides the high pixel density, the 0.5-inch Sony OLED panel offers a wide color gamut (90% of NTSC), high 10,000:1 contrast ratio, and fast 0.01ms response time with 200 cd/m2 brightness. Here is an image we captured of Sony's EVF on the A65: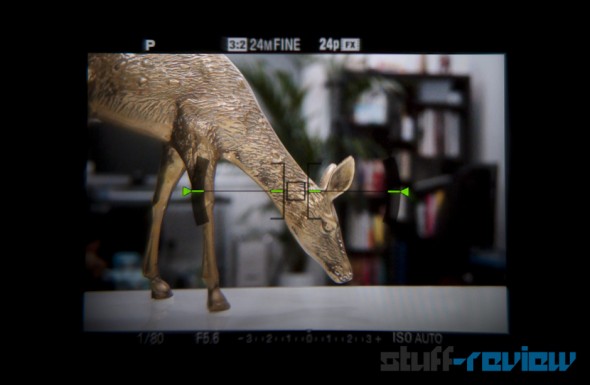 Well, now it seems there is a worthy challenger. A French company, MicroOLED, has just announced a 0.61-inch OLED microdisplay packing a total of 5,400k dots with a color resolution of 1280×1024 (SXGA) or monochrome at 2560×2048.
MicroOLED is quoting a sub-pixel pitch of 4.7μm by 4.7μm, i.e. by our calculations about one-third smaller sub-pixels compared to the Sony OLED panel. We would also guess, from the specifications, that the color version is not a typical RGB panel but probably an RGBW (White) panel. This means that the effective RGBW pixel pitch is 9.4μm compared to the Sony ECX331A pixel pitch of 9.9μm. The difference is not significant for color panels, but bear in mind that the MicroOLED panel is larger overall. We've tried to illustrate the different subpixel arrangements and the relative sizes below.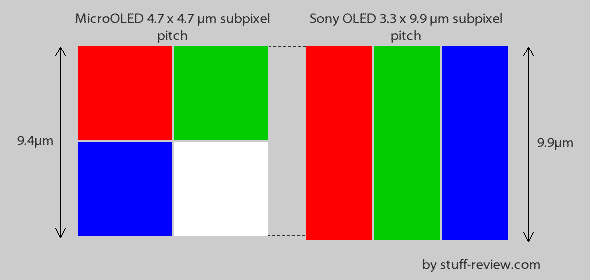 The MicroOLED panel is said to have high contrast (maximum 100,000:1) and high uniformity (96 per cent), while it's claiming to have lower power consumption than competitors.
We are really excited by the market potential of our new 5.4 million pixel density 0.61 inch diagonal OLED microdisplay that is superior in picture quality to any product in its category, said Eric Marcellin-Dibon, CEO of MicroOLED. This OLED microdisplay is already creating quite a stir among world leaders in imaging products who commend the high pixel density and the remarkable image quality. Moreover, the current trend in replacing optics with electronics components fits excellently with our ability to produce this exceptional picture quality in miniature format. We see many opportunities opening up in existing applications and new markets as a result.
The company is quoting as potential applications, digital camera EVFs (obviously), head-mounted displays and military applications.
Evidently, we can't wait for this OLED micropanel to find its way into our future digital cameras.
[
MicroOLED
]