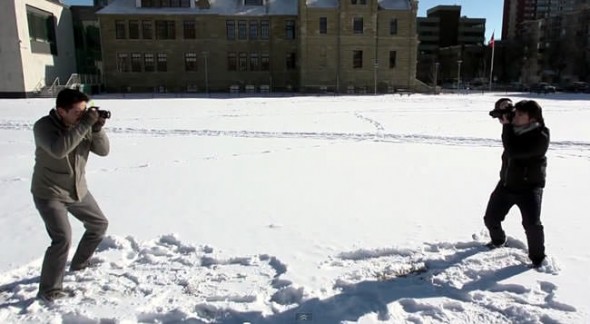 We'll admit that we are generally pretty harsh when it comes to superzoom bridge cameras. These are cameras that look like DSLRs but have fixed zoom lenses and sensors much smaller than APS-C. This means that you can't change lenses, e.g. use any fast and sharp prime lenses, and bridge camera have worse low-light performance than DSLRs.
When we first had a look at Fujifilm's latest 12-megapixel 26x superzoom X-S1 bridge camera we weren't too intrigued, especially because of the hefty $800 price point. For the price of the Fujifilm X-S1 you can get an entry DSLR, which has some undisputed benefits, like the bigger sensor and optical viewfinder.

Billy from the Fuji Guys decided to prove us, and everyone else, wrong. He met with Camera Store's Chris and pitted the X-S1 against the Canon T3 (EOS 1100D) DSLR in an old-style shootout. The following pretty witty and hilarious video ensued from the Canadian pair, huge respect for both.
To sum up, the X-S1 has some pretty incredible reach in terms of zoom range, awesome up to 1cm close macro, very fast autofocus equal to the DSLR, 7fps burst mode and although high-ISO performance at 3,200 is definitely worse than the DSLR it's actually not too bad, especially using the "pro low light" mode. The X-S1 has a 2/3 inch sensor, the same size as the Fujifilm X10, with a surface area of around 58mm2, Canon's APS-C has a surface area of 329mm2. Overall not such a bad value proposition after all.
We have to close by adding that Canon has recently announced the PowerShot G1 X, also selling for $800 (but shipping in March) so you might want to consider it as well. You get a 14.1-megapixel camera with only 4x zoom but with the largest sensor of any point-and-shoot, 1.5 inches — it is even slightly larger than Micro Four Thirds.