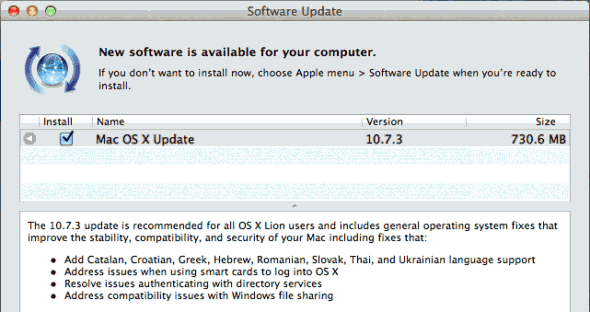 After several weeks of testing, Apple has finally released a software update for systems running Mac OS X Lion, bumping up the version to 10.7.3. The update includes a number of essential fixes and security patches. We particularly note that the update promises to fix Wi-Fi connection issues when waking from sleep, which is something that our MacBook Air (complete review here) has been suffering from. The software also includes a new version of Safari, 5.1.3 and adds additional language support.
To check for the update on your Mac OS X Lion computer, click on the 'Apple' logo at the top-left, then 'Software Update'. Be sure to have a recent back up of your system before you install the update (e.g. through Time Machine). It's a quite weighty download, ours measures 730.6MB. We'll try to update you once we have a chance to test it out on our devices and if this finally fixes Wi-Fi issues on the MacBook Air.
Here is the official list of fixes and improvements:
Add Catalan, Croatian, Greek, Hebrew, Romanian, Slovak, Thai, and Ukrainian language support
Address issues when using smart cards to log into OS X
Address compatibility issues with Microsoft Windows file sharing
Address an issue printing Microsoft Word documents that use markup
Address a graphics performance issue after sleep on some earlier iMacs that use ATI graphics
Resolve a Wi-Fi connection issue when waking from sleep
Address an issue that may prevent Safari from opening before joining a wireless network
Fix a potential issue authenticating to an SMB DFS share
Include RAW image compatibility for additional digital cameras
Improve binding to read-only Active Directory Domain Controllers
Improve binding and login speed for Active Directory users in a domain whose name ends in ".local"
Improve reliability of Dynamic DNS (DDNS) updates by Active Directory clients
Allow login with an Active Directory username that contains a space
Improve compatibility with Active Directory schemas that have been extended with the "apple-user-homeDirectory" and "apple-user-homeurl" attributes
Fix home directory Dock item for Active Directory users with mobile accounts
Allow NIS users with MD5-hashed passwords to log in
UPDATE: Apple has pulled the standard 10.7.3 update available through 'Software Update' as many users have experience issues after installation, such as apps crashing and a weird bug that presents the text 'CUI' instead of normal graphics. Apple is recommending all users to use the 10.7.3 Client Combo update, available here. It's a 1.2GB download and said to fix the aforementioned issues.
[
Apple
]