With the entry-level Sony A55 gone the way of the dodo, the company had to fill the gap in its DSLT (digital single lens translucent) camera line-up. The just announced A57 is the official successor to the A55, which was initially released in 2010 and was the first camera to feature Sony's translucent mirror technology.
Sony's SLT cameras have a DSLR-style body and a mirror, but unlike DSLRs, the mirror doesn't move. The translucent mirror allows most light to hit the sensor while some of it is reflected to a phase detection autofocus sensor. Because of this setup, DSLT cameras feature electronic viewfinders (EVFs) rather than optical ones.

The new Sony SLT-A57 is bigger than its predecessor, which according to Sony was too small for easy handling. In fact the A57 looks a lot like the A65 we saw last year. The A57 comes with a 16-megapixel sensor, probably the same Sony sensor used in the NEX-5N and the Nikon D7000. Users shouldn't lament that Sony didn't go with the 24-megapixel sensor found in the A65, A77 and the NEX-7, as this lower megapixel sensor has very good low-light performance with relatively low noise.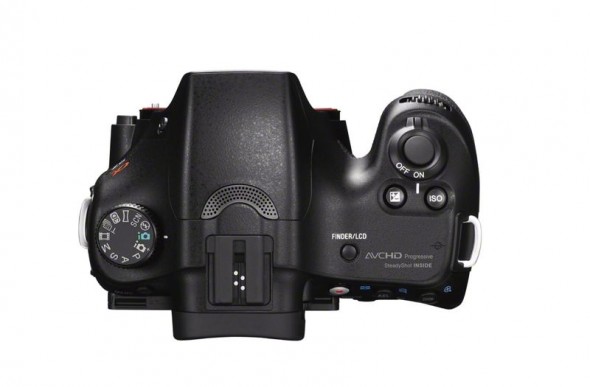 The big loss in the A57 over its more expensive siblings is the choice of a 1,440k dot LCD EVF against the excellent 2,400k dot OLED EVF found in the A65, A77 and NEX-7. In addition to the EVF, Sony is giving you an angle-adjustable 3-inch 921k dot LCD display to frame your shots.
Now the new model does have some new tricks up its sleeve. The A57 is able to shoot 12 frames per second with continuous auto focus thanks to its phase detection AF system, as well as 1080p50 video with full aperture control. The A57 uses the same 15-point AF system as the A65 and has a new automatic portrait framing mode.
The A57 has also received the latest generation BIONZ image processor allowing for an ISO range between 100 to 16,000. Because the A57 is bigger than its predecessor, Sony has managed to fit in a larger battery rated for around 550-590 shots. The A57 weighs 618g (1.36 lbs) with the battery and memory card.
The new SLT-A57 is hitting shops in early Arpil 2012 for $699.99 as body-only, or $799.99 with the 18-55mm kit lens. Oh, Sony is also touting some green credentials, with 10% of the chassis made from recycled material.
Summary features:
High speed 12 fps shooting with full-time continuous autofocus (in Tele-zoom Continuous Advance Priority AE mode)
Full HD 50p video with full P/A/S/M control
World's first Auto Portrait Framing
Clear Image Zoom for detail-packed close-ups
New high-resolution Tru-Finder with 100% coverage
16.1 effective megapixels Exmor APS HD CMOS sensor plus latest BIONZ processor
Extended sensitivity range ISO 100 – 16000
15-point AF system with 3 cross sensors
Hands-on video: