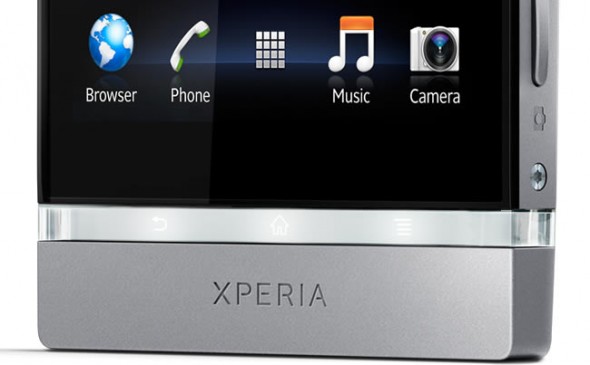 The premise behind Sony's WhiteMagic LCD display technology is simple, add a white subpixel to the standard red, green and blue subpixel arrangement and improve both brightness and power efficiency, win-win. We first covered WhiteMagic RGBW displays while we were looking at the LCD inside the new Fujifilm X-Pro1 digital camera, and Sony has now integrated the technology in its own 4-inch Xperia P Android smartphone.

The RGB display additive color model uses the three primary colors, red, green and blue, to reproduce every other color. In LCD panels you have a white light source in the back (CFL or LED), the light then passes through red, green and blue color filters which block much of this light to get the three colored subpixels. Sony's RGBW WhiteMagic technology adds a white subpixel which lets the backlight's entire light spectrum through. You can see the subpixel arrangement below.
The fourth white subpixel acts to either double the brightness or save 50% on the backlight's power consumption. Sony's WhiteMagic can switch between the two modes to either make the display brighter for outdoor use or save battery on your device.
The Sony Xperia P offers users the ability to choose between the brighter "outdoor mode" — with a retina-burning 935cd/m2 light intensity Sony is claiming that the Xperia P has the brightest screen on any phone with similar pixel density — or the power efficient "indoor mode", still offering a bright 530cd/m2 for 50% power consumption.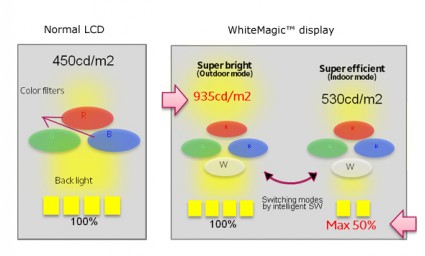 The WhiteMagic screen consumes less power when displaying an all white screen and Sony is calling on developers to design apps using only black and white for better power efficiency on the Xperia S. Not such a great idea guys, remember all those AMOLED devices out there, like the Galaxy Nexus and the Galaxy S II, well white is their nemesis, consuming the most power.
[
Sony Developer World
]