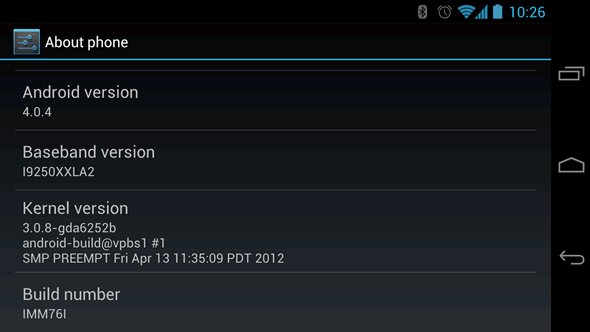 When finally the Android 4.0.4 IMM76D update reached GSM/HSPA+ Galaxy Nexus owners, some reported occasional GSM connectivity issues and signal loss. So after only a couple of weeks, Google is already pushing an incremental over-the-air update to Galaxy Nexus devices that maintains the Android version at 4.0.4 but improves the build number slightly at IMM76I.
As usual Google isn't mentioning what this update improves and fixes, but users that have received the update are reporting that it does indeed fix the connectivity bug. Reports are also coming in that there could be some other minor fixes as well, but nothing confirmed yet.

This is a rolling update, which means it could take some time to reach your device, though you might want to speed up things a bit by following our guide below. It only took two tries and our own Galaxy Nexus finally received the IMM76I update. Note this is the same guide posted for updating to Android 4.0.4.
First, you could check that your Galaxy Nexus device is receiving updates directly from Google or not. If not, then following these steps won't help. To do this, download the small checker app from Google Play here. Once confirmed, follow the steps and note you might need to repeat them multiple times until you get the update:
Go to Settings and then Device > Apps.
Tap the 'ALL' tab, scroll down to 'Google Services Framework' and open it.
Now hit the 'Clear data' button.

Go back to the main Settings page and this time go to System > About phone and then 'System updates'.
You'll probably see a weird date along the lines of 1970, this is normal.
Hit the 'Check now' button.
If you are told that the 4.0.4 update is available hit download and then install, else repeat the process from bullet number 1.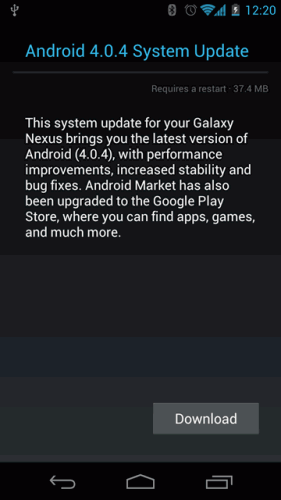 Let us note in your comments if you've been experiencing any issues with the IMM76D update and if this new build fixes them.