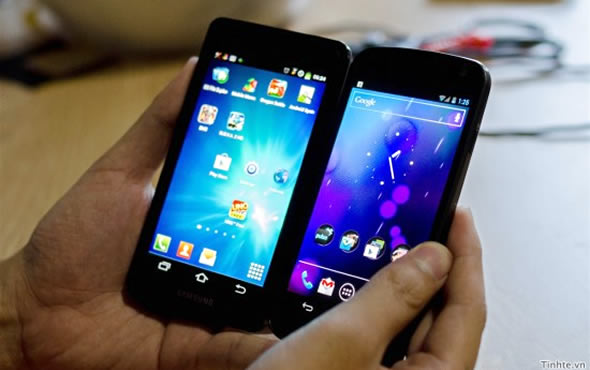 Not a week passes without a couple of new rumors and purported leaks of the upcoming Samsung Galaxy S flagship smartphone. Though Samsung hasn't confirmed its name yet, we'll assume for now that it will be called the Galaxy S III, following the naming convention of its predecessors.
So here's a summary of this week's rumors in an easy to digest form.
The biggest piece of news came from a Vietnamese site claiming to have a prototype Galaxy S3 (Samsung i9300) device. The smartphone is said to have the new Galaxy flagship internals wrapped inside a plastic dummy case, i.e. this is not how the final product will look like. The team over at Tinhte, the Vietnamese website, took a number of photos of the device as well as the video you can see below.
This rumor confirmed the GT-I9300 and Galaxy S III naming, while according to the leaked specs, the SGS3 would have a 4.6-inch Super AMOLED display (no info whether it will be be a non-PenTile Plus display) with a 720 x 1184 resolution. It will run on a quad-core 1.4GHz processor, probably Samsung's own Exynos SoC and have 1GB of RAM, 8-megapixel camera and 16GB of storage with the ability to add-on more through a microSD card.
Finally, according to Tinhte, it come with a 2,050mAh battery that will probably make good on Samsung's promise for all-day battery life, and NFC connectivity. Below is a gallery of photos from the original Tinhte post that now been removed.

If the above leak wasn't enough a new product page turned up on Amazon Germany for a Samsung Galaxy S3 smartphone.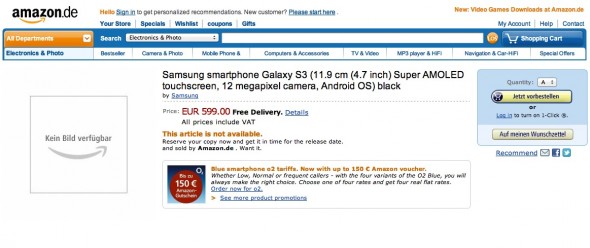 The listing mentioned a 4.7-inch Super AMOLED display, 12-megapixel camera and 16GB storage. This does go against the 8-megapixel camera mentioned in the Vietnamese leak, but Samsung may have easily swapped to a more potent camera chip for the final model. The listing is for 599 euros and we should remind you that Amazon is infamous for having jumped the gun on similar products in the past. As you would expect the page is now gone from Amazon but the screen capture above remains.
The final bits of Samsung Galaxy news relate to additional new products that we might see from Samsung at the May 3rd London Unpacked event. Rumor has it that Samsung could also introduce a new Galaxy 10.1-inch Android tablet and its own cloud content and storage competitor named 'S-Cloud'. The service is said to be similar to Apple's iCloud with offerings that include music, movies and TV shows and the ability to upload your own content.