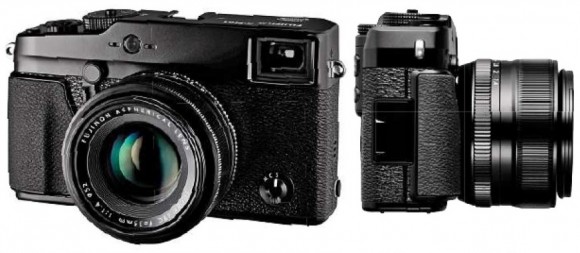 Someone has been quite trigger happy today. The same source that has given us the Nikon D4 leak, has also leaked a wire on Fujifilm's X-series mirrorless interchangeable lens camera (MILC) system. Though several names for Fujifilm's new interchangeable lens camera have been rumored, such as LX10 or X1, it seems that it may eventually be called the X-Pro 1.
Thanks to this latest leak we finally have some more detailed specs on the Fujifilm X-Pro 1 MILC. If the leak is to be believed, the X-Pro 1 will receive a new custom-developed 16-megapixel APS-C EXR sensor (up from the 12.3-megapixel sensor in the Fujifilm X100) with a new filter array. The camera will include a second-generation hybrid viewfinder, building on the success of the X100.
Fujifilm will release the X-Pro 1 system with three fast prime lenses. Though a zoom lens was also initially rumored, there isn't any indication of one for now. The three prime lenses will be 18mm (27mm equivalent) f/2.0, 35mm (53mm equivalent) f/1.4 and 60mm (90mm equivalent) f/2.4 macro.
For more images of the X-Pro1 check out the previous leak this week. More information is bound to come soon as Fujifilm takes the stage at PMA @CES 2012.

Summary rumored specs for Fujifilm X-Pro 1:
Custom 16-megapixel APS-CMOS 'X-Trans' sensor with new filter array and EXR technology
Second-generation hybrid optical/electronic viewfinder
Aluminium body with magnesium alloy top and bottom
138 x 83 x 38 mm
Full metal 18mm f2.0, 35mm f1.4 and 60mm f2.4 macro prime lenses
UPDATE: We've now received information that the X-Pro 1 will be released in March 2012. Pricing would be around €1300 ($1770) for the X-Pro 1 with the 35mm f1.4 lens. The other two lenses are said to cost around €600 ($770) each.
UPDATE 2: Two new leaked images showing the actual X-Pro 1 camera (above) and the three prime lenses (below).
UPDATE 3: The three lenses have now got early Amazon pages with pricing and further details. See here.
UPDATE 4: Better pictures of the X-Pro 1 camera have surfaced together its leather case and flash unit here.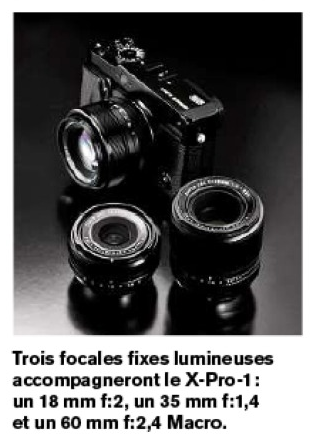 [Fujifilm X-Pro1 wire, Response Photo magazine article (French)]