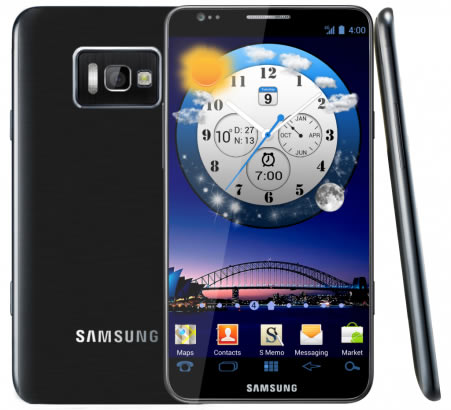 Samsung Mobile has had a good year, mostly because of the success of the Galaxy S II, the biggest selling Android smartphone to date. Samsung was also a launch partner for Android 4.0 Ice Cream Sandwich, as the manufacturer for the Galaxy Nexus (read our complete review here), while even the company's mammoth 5.3-inch Galaxy Note has managed to ship one million units in two months.
Running on a potent Samsung Exynos chip, the Galaxy S II, still is the fastest smartphone out there, at least according to benchmarks. It makes sense that the company would want to maintain a good tradition, and of course sales figures, with a successor. Word on the street is that we will soon be seeing the Samsung Galaxy S III (SGS3) at the Mobile World Congress in Barcelona, Spain, which opens its doors on February 27, 2012. Note, the image above is just a fan concept render, and not the actual Galaxy S III.

So what about specs? Our bets are that the SGS3 will run on the recently announced Samsung Exynos 5250 chip, which has a 2.0Ghz dual-core ARM Cortex-A15 CPU and a Mali-T604 GPU. We're also pretty sure that the display will have a 720p resolution (which is now the standard Android Ice Cream Sandwich resolution), though it's yet uncertain whether it will be a PenTile Matrix Super AMOLED HD screen, similar to the one the Galaxy Nexus, or a more advanced RGB Super AMOLED HD Plus screen. The latter would mean that Samsung has advanced its display manufacturing process, though we haven't yet seen any evidence of this. Below are closeup images of the Galaxy Nexus's PenTile Matrix AMOLED screen on the left and a standard RGB display on the right.
Samsung is also said to be developing mobile 3D display technology, so we could also potentially see a device like a Galaxy S 3D launch together with the SGS3, to take on the likes of the HTC Evo 3D and the LG Optimus 3D. Though we might also see some 3D technology making its way into the SGS3.
[via
ETNews
(Korean)]