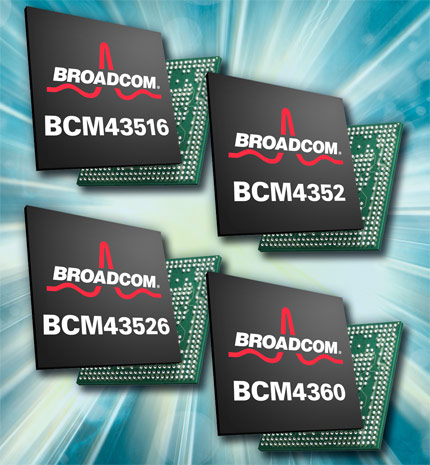 We already knew that the latest 802.11ac Wireless Local Area Networks (WLAN) communications standard was on the way, also known as 5G Wi-Fi, but what good is a standard if there are no devices to support it. Well, Broadcom has just made the move of freeing us further from the shackles of ethernet, by releasing their first family of IEEE 802.11ac chips.
802.11ac uses the 5GHz band to provide multi-station WLAN throughput of at least 1 gigabit per second. The new standard's capabilities are obviously suited for high-speed video streaming, like HD content. It will also help speed up substantially all file transfers over WLAN. 5G Wi-Fi also promises fewer dead spots and better battery life for portable devices, since transfers will now happen so much faster.

Broadcom's family of 5G Wi-Fi chips includes the BCM4360, BCM4352, BCM43526 and BCM43516 and should make an appearance at CES 2012 in Las Vegas. Let's welcome the new bunch and bid farewell to choppy HD video streaming for good.
Official press release:
5G WiFi Offers Consumers the World's Fastest, Most Reliable Wireless Coverage for HD-Quality Video and Near Instantaneous Data Synch
Innovation Attracts Support from Industry Leaders – Comcast, Lenovo, Motorola, NETGEAR and Others

LAS VEGAS, Jan. 5, 2012 /PRNewswire/ – CES –

News Highlights:

Broadcom introduces first family of IEEE 802.11ac chips based on the 5th generation of Wi-Fi (5G WiFi)
5G WiFi improves wireless range in the home, allowing consumers to watch HD-quality video from more devices, in more places
The increased speed of 5G WiFi allows consumers to load web content on a mobile device faster, synch large video or music files quickly, all while extending battery life
5G WiFi addresses the growing need for a more robust and efficient wireless network
Broadcom Corporation (NASDAQ:BRCM), a global innovation leader in semiconductor solutions for wired and wireless communications, today introduced its first family of 802.11ac (5G WiFi) chips designed for a broad range of product segments. The new IEEE 802.11ac chips are three times faster and up to six times more power efficient than equivalent 802.11n solutions. Visit Experience Broadcom @ CES for more news, blogs and multi-media from CES and www.5GWiFi.org for more information on consumer advantages of 802.11ac.

5G WiFi is the next generation Wi-Fi standard required for today's mobile and video era. Based on 802.11ac, 5G WiFi is a major evolutionary step from the existing 802.11a/b/g/n networks. Broadcom's 5G WiFi dramatically improves the wireless range in the home, allowing consumers to watch HD-quality video from more devices, in more places, simultaneously. The increased speed enables consumers to download web content from a mobile device faster and quickly synch large files, such as videos, in a fraction of the time it would take on a similar 802.11n device. Since 5G WiFi transfers the same volume of data at a much faster rate, devices enter low-power mode faster, which results in significant power consumption advantages.

Digital-content consumption is on a steep incline, with video content expected to reach approximately 90 percent of global consumer traffic, according to Cisco's 2011 Visual Networking Index Forecast. At the same time, Internet traffic is shifting rapidly from wired to wireless networks. The increased reliance on wireless networks, the explosion of video consumption and the growing number of wireless devices being used are all putting tremendous stress on legacy 802.11a/b/g/n networks. As a result, consumers are prone to experience deteriorated performance, choppy videos and slower load times.

By creating more reliable whole-home coverage, Broadcom's 5G WiFi technology overcomes the digital content and wireless device challenge. Broadcom's family of 5G WiFi solutions includes the BCM4360, BCM4352, BCM43526 and BCM43516.

Product Highlights:

All 5G WiFi solutions from Broadcom support the following features:
80 MHz channel bandwidth that is 2 times wider than current 802.11n solutions
256-QAM, a higher modulation scheme that increases data transfer efficiency
Transmit and receive beamforming
Low Density Parity Check (LDPC) Codes
Space-Time Block Codes (STBC)
BCM4360 supports the PCIe interface and implements 3-stream 802.11ac specifications, and reaches speeds up to 1.3 Gbps.
BCM4352 and BCM43526 implement 2-stream 802.11ac specification to reach up to 867 Mbps. BCM4352 supports PCIe interface; BCM43526 supports the USB interface.
BCM43516 supports USB and reaches speeds of up to 433 Mbps with its single stream 802.11ac implementation.
Chips with the PCIe interface are ideal for access points, routers, DSL/cable gateways and PC products; chips that use USB are ideal for consumer electronics devices including televisions, set-top boxes and Blu-Ray players.
Broadcom's new 5G WiFi chips deliver better coverage and longer battery life in a small form factor that is interoperable and compatible with existing technologies.
Beamforming helps steer content in the direction of the intended receiver, increasing reliability and extending range; this is well complemented by STBC and LDPC code support.
By transferring the same volume of data at a much faster rate, devices go into a low-power mode faster than existing 802.11n solutions.
Designed on 40nm manufacturing process, the new chips are smaller and more power efficient, giving customers more design freedom.
Broadcom's 5G WiFi solutions work with all legacy 802.11 standards and complement other wireless technologies – like Wi-Fi Direct, Bluetooth and NFC.
Broadcom is sampling 5G WiFi solutions to its early access partners including retail and PC OEMs, service providers and carriers, and will be demonstrating 5G WiFi capabilities at CES.

802.11ac has generated broad support across the consumer-electronics industry. Companies and partners across the ecosystem recognize that 802.11ac is the future of Wi-Fi and are committed to its development, integration and distribution.