LG is getting together a strong showing for CES 2012. We've already seen their 84-inch Ultra Definition QFHD 3D TV and now the company has announced the world's largest OLED TV. The new 55-inch, 4mm thick OLED TV will make an appearance at CES in Las Vegas next week.
LG Electronics, is claiming that the new OLED TV will produce the most natural colors we've seen from any TV, based on their 4-color pixel technology and image processing features. Instead of the typical RGB arrangement found in other televisions, LG's 4-color pixel technology uses red, green blue and white subpixels. Sharp has been using their own 4 color technology in their Quattron TV sets, with the inclusion of a yellow subpixel as the additional color.

The TV is incredibly thin and light, at just 4mm and 7.5kg (16.5lbs), which the company rightfully claims will blend into your wall. LG has alluded to a fourth-quarter release date but a yet unknown price. OLED TVs (mostly from Sony) have so far cost an arm and a leg, but LG is promising this set will have a more down to earth price.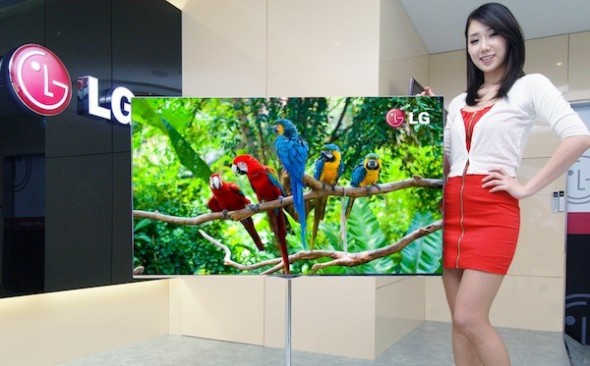 Official press release:
WORLD'S LARGEST OLED TV FROM LG OFFERS MORE REALISTIC COLORS, BRIGHTER PICTURE, FASTER SPEED
LG Unveils Much Anticipated 55-inch OLED TV for First Time at CES 2012

SEOUL, Jan. 2, 2012 – LG Electronics (LG) will present the future of TV technology at the Consumer Electronics Show (CES) in Las Vegas with the unveiling of the world's largest OLED TV with a display size of 55 inches. By incorporating the company's 4-Color Pixels and Color Refiner features with LG Display's advanced OLED (organic light-emitting diode) panels, LG OLED TV generates the most natural colors of any TV set at a much lower price point than could have been achieved using the standard manufacturing process.

"Working closely with LG Display, we have a product which not only delivers on all the advantages of OLED over LCD but at a significantly lower cost than what could be achieved using existing OLED manufacturing technologies," said Havis Kwon, President and CEO of LG Electronics Home Entertainment Company. "OLED is clearly the future of home TV entertainment and LG is very focused on making this exciting technology as easy as possible for consumers to embrace."

What sets LG's TV picture apart from other OLED TVs is 4-Color Pixels and Color Refiner which work together to generate natural and accurate colors that are sharp and consistent. The 4-Color Pixels feature allows for more accurate color depiction by using a set of four colors (red, green blue and white) in comparison to the RGB setup used by other OLED TV manufacturers. Color Refiner ensures consistency in colors from a wider viewing angle via an LG algorithm which improves and refines hues and tones. This is in contrast to other OLED TVs which often exhibit drastic changes in hues from different viewing angles and abnormal color gamut.

Boasting an infinite contrast ratio, LG's OLED TV exhibits vivid colors and the smallest details regardless of the overall luminance of the on-screen image. In turn, colors and details throughout an entire image are preserved with utmost clarity and sharpness, even when displaying scenes with dark lighting. Such color capabilities are technically impossible with LED and LCD display panels. And at 1,000 times faster than LED/LCD displays, LG's OLED TV shows crystal clear motion without any blurring or bleeding.

And LG's OLED TV is as aesthetically pleasing as it is technologically sophisticated. LG's Slim and Narrow Bezel design gives the TV a sleek, minimal look and at only 4 mm thin and a mere 7.5 kg, LG's OLED TV practically blends into the wall.