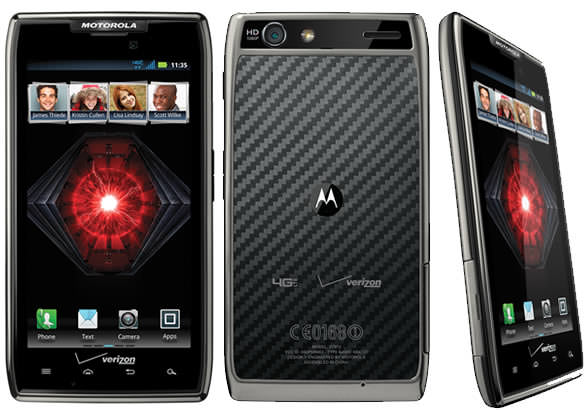 The Motorola Droid Razr Maxx (that's a mouthful) is an updated version of the skinny Droid Razr but with an immensely bumped up battery.
The Razr Maxx variant carries a 3,300mAh battery which is almost double the 1,780mAh capacity found in the Droid Razr. With such a large battery, our dream for all day continuous use will become true. The company estimates the Maxx's talk time at 21 hours compared to 12.5 hours of the original Razr. Surprisingly the new battery doesn't add too much girth to the device, which is still just 8.9 mm thick against the original's 7.1mm.

The 4G LTE Droid Razr Maxx with 32GB of built-in storage will join the rest of Verizon's line-up, for a price of $299 with a two year commitment, in the coming weeks. It will initially launch with Android 2.3 Gingerbread though the press release promises an Android 4.0 Ice Cream Sandwich update.
Press release:
Verizon Wireless and Motorola Announce New Additions to DROID Family at CES 2012

New DROIDS and new colors – Verizon Wireless and Motorola have something for everyone

Jan. 09, 2012

LAS VEGAS and BASKING RIDGE, N.J. – From the 2012 International Consumer Electronics Show (CES), Verizon Wireless and Motorola Mobility, Inc. (NYSE: MMI) today announced an expansion of the DROID RAZR™ family. In coming weeks, customers will see the DROID RAZR™ by Motorola in Purple and the DROID RAZR™ MAXX™ by Motorola. Both new DROIDs are powered by America's fastest, most reliable 4G network and build upon the successful DROID RAZR by Motorola.

DROID RAZR – Thin, Powerful and now in Purple

DROID RAZR in Purple will debut in the coming weeks with 16 GB on-board memory and gives customers a third stylish option from which to choose. Regardless of color – classic Black, pristine White or Purple, the DROID RAZR is equipped with the same great features that let customers search the Web or download more than 300,000 Android Market™ apps at breakneck speeds on the Verizon Wireless 4G LTE network. The DROID RAZR in Purple will be $199.99 with a new two-year customer agreement.

Taking DROID RAZR to the MAXX

The DROID RAZR MAXX by Motorola will join the DROID family for customers who want all the great features of the DROID RAZR, but need a smartphone that overachieves. DROID RAZR MAXX is designed for customers who spend their days and nights multi-tasking. This smartphone is a marathon runner with enough endurance to let customers talk on the phone for over 21 hours straight on a single charge1. It's the longest-lasting smartphone on the block, and at just 8.99 mm, the device is still impossibly thin. The DROID RAZR MAXX comes equipped with 32 GB of total memory and will be $299.99 with a new two-year customer agreement.

The DROID Family by Motorola Complete with Tablets

The DROID family also includes the two recently launched DROID XYBOARD tablets by Motorola. Both boast the blazing speeds of Verizon Wireless' 4G LTE network and the power of dual-core 1.2 GHz processors for lightning-fast Web browsing and multi-tasking. Customers can select what size XYBOARD they want to command by choosing either the 10.1-inch or 8.2-inch DROID.

Ice Cream Sandwich Update

DROID RAZR and DROID RAZR MAXX are powered by the Verizon Wireless 4G LTE network and run on Android™ 2.3.5 Gingerbread, to be upgraded to Android™ 4.0 Ice Cream Sandwich. The DROID XYBOARD tablets will also be upgraded to Android 4.0. Both DROID smartphones will be available in Verizon Wireless Communications Stores and online at www.verizonwireless.com in the coming weeks.

Additional Features and Smart Accessories

A full suite of accessories that extend the power of DROID RAZR and DROID RAZR MAXX by Motorola are also available from Verizon Wireless. Accessories compatible with both DROIDs include the 10.1-inch Lapdock 100, 14-inch Lapdock 500 Pro with built-in webcam and Ethernet connection, HD Dock, HD Station and vehicle navigation mount. Plus, each device has all the software needed to customize DROID RAZR or DROID RAZR MAXX to the fullest. Stream music, photos and videos from home or work computers straight to the smartphone with MotoCast™, or automate everyday tasks by creating rules using Smart Actions.