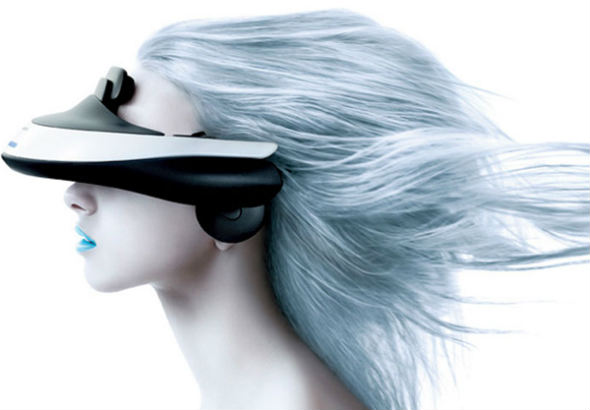 Sony has been hitting home runs with its new tiny high resolution OLED displays. The company's latest announcement is a futuristic headset, the HMZ-T1, hosting a pair of 0.7-inch OLED displays. Each display, one for each eye, is capable of a 720p HD resolution (1280 x 720), offering full 3D support for movies and gaming with zero crosstalk — that is, each eye will be seeing a totally different image, unlike current 3D TV technology. Sony is claiming that the experience is similar to being in a movie theater looking at a 750-inch screen from 20 meters away.
OLED panels offer very fast refresh rates, so fast moving action is a non-issue for them, while contrast ratios are also very good because OLEDs can be bright and colorful but at the same time offer deep blacks. Sony has paired the displays with a newly developed optical lens and with 45-degree wide horizontal viewing angles, you can imagine the level of stomach-turning immersion this headset can provide.

You won't be taking this unit out on the road with you however, not just because you will look like the Borg, the display must be connected to a processor unit which is equipped with an HDMI input socket and a pass-through HDMI out. The processor has a built-in HDMI switch enabling both the head-mounted display and a television to be connected to the processor at the same time.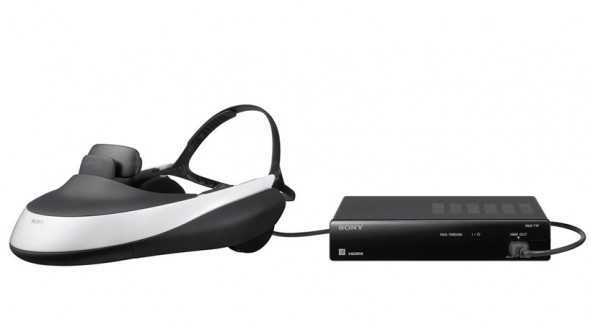 Sound is also said to be impressive, with pseudo virtual 5.1 surround sound offering four modes: standard, cinema, games and music.
The downsides are, that the headset weights around 14.8oz (420g), so it remains to be seen how comfortable the unit will be after a long gaming session or a movie, while obviously it can only be enjoyed by one person at a time.
The HMZ-T1 is pegged to be released in Japan in November for around 60,000 yen ($784). We don't yet have confirmed prices and release dates for other markets.