We'll be covering an important, but neglected, section of portable audio, active noise-cancelling (ANC) headphones. We've already covered in detail the different types of noise reduction implemented in consumer audio headphones and the differences between active noise cancellation and passive sound isolation, so you may want to read our primer here first.
In simple terms, sound isolation works by stopping sound from reaching your eardrum through soundproofing, while noise cancellation through special circuitry which create a noise-cancelling sound wave. I'm more in favor of the latter kind, simply because they offer the most comfortable experience and are more effective in cutting out constant frequency noise. Most ANC headphones offer noise isolation as well, and when you load-up your music, turn the ANC circuit on and cut-out the outside noise you are transported to a different world.
If you use any form of public transportation, or frequent any public place you cannot appreciate how much ambient noise there really is until you cut it out.
We'll look at three different ANC earbuds: first, in this review, the Audio-Technica ATH-ANC23, then in follow-up reviews, the Sony MDR-NC300D and finally the Panasonic RP-HC55-S. This group test only deals with the more portable in-ear earbuds/earphones; if you read Stuff-Review you will know how much we appreciate portability and I wouldn't imagine adding bulky headphones to my daily load.

The sound test
The three sets were tested against different noisy situations: inside an aircraft, at a busy café and using a computer generated noise signal. To test the sound quality, audio was played either in CD-quality lossless format or 320kbps MP3s.
Audio-Technica ATH-ANC23 QuietPoint headphones
Audio-Technica might not be widely known to consumers, but the company has been making quality audio products, like microphones, headphones and vinyl phono cartridges (yeah people still use those) for decades. Audio-Technica has actually been providing microphones for the Grammys for many years.

The photo you see on the right is of a beaten and battered, but still functioning, Audio-Technica ATH-ANC3 set. It has been my trusted travel buddy for years, which has now been superseded by the ANC23. The newer ATH-ANC23 offers better noise reduction — though some sacrifices have been made, which we cover below — however, the ATH-ANC23 retails at a lower price than what the ANC3 was selling. The ANC23 has a MAP (minimum advertised price) of $79.95 but can be picked up for just $44 or £44.
The key change with the ANC23 is the new control unit offering better noise cancellation. There is also a new volume dial; though I find volume dials frustrating I can understand its utility when you've got your audio player stuffed in a pocket. A major omission in the new control unit is the monitor button, which when depressed would cut-off your audio and allow you to listen to your surroundings without taking off the earphones. For some reason this function was not included in the latest model.
The control unit, which is now more rectangular with rounded corners, takes a single AAA battery and weighs 24g (0.8oz) with the battery, the lightest in our round-up. On the back you'll find a clip to attach it to your clothing, which is quite secure, and a single ON/OFF switch on the front. I can't say I am a big fan of the design or the plastic material. The entire length from end-to-end is 140cm (4.6ft) (20cm longer than the ANC3) so it'll be hard to run out of cable. In the retail box you'll also find a handy pouch and an airline adapter.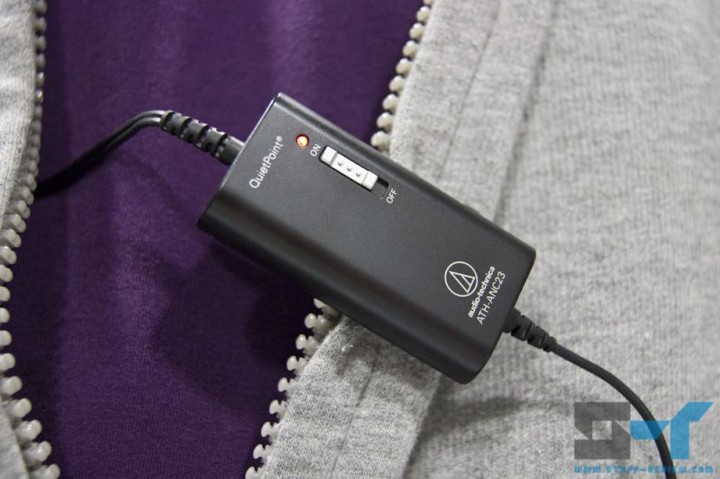 A very important difference between the Audio-Technica ATH-ANC23 and the other two earphones is that audio passes through even if you have the cancelling circuit off. So you will not be left without your headphones if you run out of battery. Speaking of battery life, the ANC23s can last quite a while, and I'm past the 15 hour mark with a single battery — just make sure you switch off the set when you are not using it.
Comfort
I find the Audio-Technica earphones the most comfortable of the bunch. Each earpiece is lightweight and because of their shape they fit snugly inside the outer ear. Because of this exterior design the earphones stay put, so you don't have to fiddle around with them and are comfortable during extended use.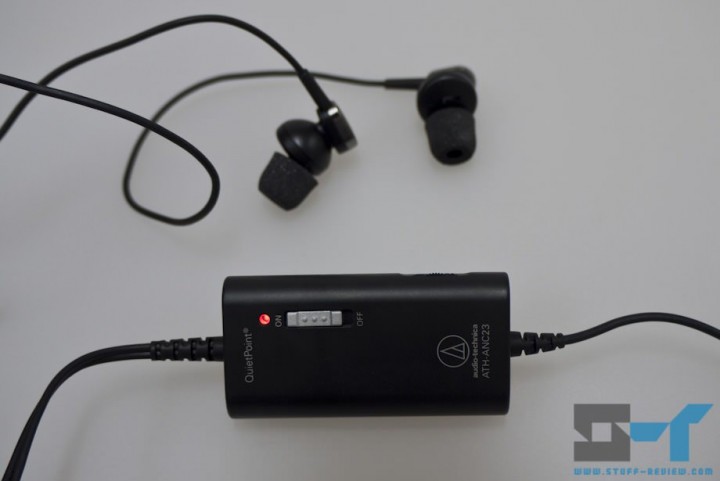 You get a pretty standard set of three rubber tips, small, medium and large and the ANC23 also adds just one pair of medium Comply foam plugs, which you squish to get into your ear canal for better noise isolation and tighter fit. I didn't find the latter very comfortable during use as there is only one size included, and they wouldn't fit into my inner ear. I did settle easily however on the smaller rubber tip and fit was good. Note that you can buy Comply foam tips that will attach to these earphones.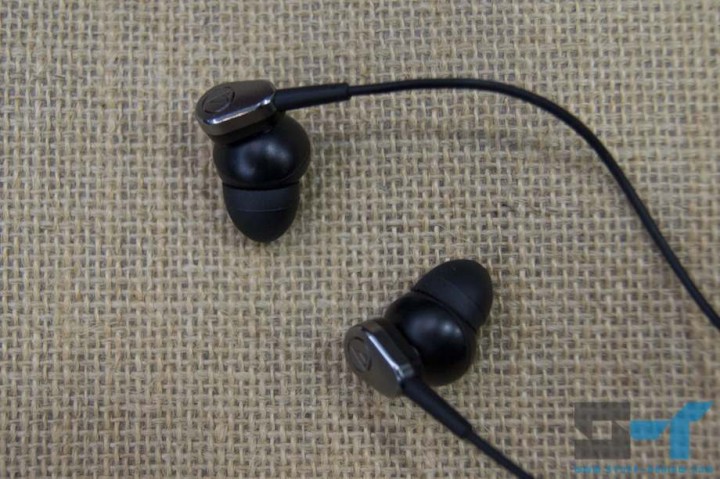 Noise cancelling performance
Audio-Technica claims up to 90% noise suppression. Obviously there is no easy way for us to scientifically test this; our outcomes only rely on impressions. Noise reduction overall is very good. On an airplane it cancels out much of the engine noise, around 70-80% I would say, and in a busy café it brought down noise to a bearable level. It is of course not able to cancel voices completely and you will be able to hear the odd one here and there but it pretty much cancelled everything else. ANC earphones mainly cancel low frequencies, so you will have mixed success with high frequency sounds such as voices. Random computer generated noise defeated the earphones, only about 40-50% of noise was cancelled, and that was mainly because it was made of varying frequency. Noise-cancelling performance is as expected between the high-end Sony set and the cheaper Panasonic.
On an airplane I also tend to use them without any music or audio playing, just with the ANC circuit on to cancel out noise and get some peace.
Sound quality
Without any music playing there wasn't any noticeable hiss coming from the earphones, which sometimes can result from the noise cancelling circuitry. The ANC23s feature 12.5mm drivers and sound quality is very good for earphones at this price level. In fact the ANC23s sounded the most natural of the pack. Vocals were bright and bass was adequate for this type of headphones.
Sound quality is no match against reference in-ear monitors, but they would give any sub-$100 set a run for their money.
Verdict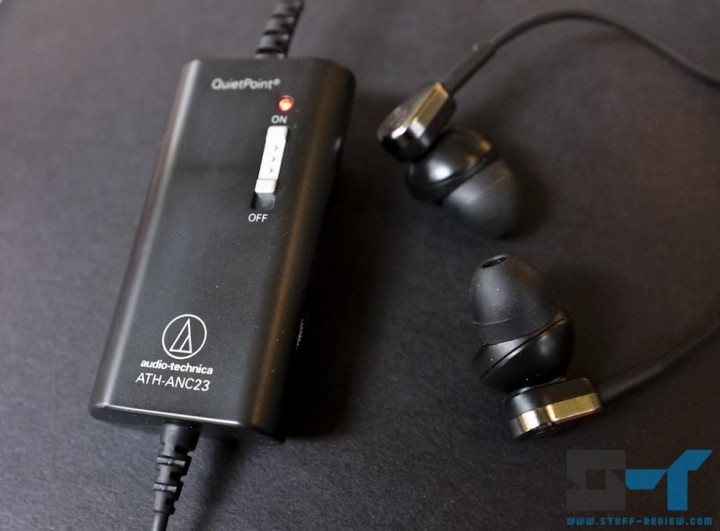 The ATH-ANC23s offer the best price to performance. Both noise cancellation and sound quality were good. Sound was very natural and the ANC circuitry didn't make the sound muffled in any way. They are also very comfortable and the only ones in the bunch that pass through sound without a battery. For less than $50 they are a steal. I did miss the monitor button and if you really wanted top of the line noise cancellation you would have to go with the much more expensive Sony MDR-NC300Ds.
Be sure to check out our review of the Sony MDR-NC300D earbuds here.