This review is part of our round-up of three active noise-cancelling (ANC) headphones. We've already covered the excellent Audio-Technica ATH-ANC23 in-ear headphones here, and I recommend that you read that review as well. This review centers on the Sony MDR-NC300D noise cancelling earbuds and the final review will be of the Panasonic RP-HC55-S. As we've mentioned before, this group test only deals with the more portable earphone variety; if you read Stuff-Review you will know how much we appreciate portability and I wouldn't imagine adding bulky headphones to my daily load.
You might also want to brush up on the terminology and technology behind active noise-cancelling headphones. Our primer, which can be found here, covers the different types of noise reduction implemented in consumer audio headphones and the differences between active noise cancellation and passive sound isolation.
In simple terms, sound isolation works by stopping sound from reaching your eardrum through soundproofing, while noise cancellation through special circuitry which create a noise-cancelling sound wave. I'm more in favor of the latter kind, simply because they offer the most comfortable experience and are more effective in cutting out constant frequency noise. Most ANC headphones offer noise isolation as well, and when you load-up your music, turn the ANC circuit on and cut-out the outside noise you are transported to a different world.
If you use any form of public transportation, or frequent any public place you cannot appreciate how much ambient noise there really is until you cut it out.

The sound test
The three sets were tested against different noisy situations: inside an aircraft, at a busy café and using a computer generated noise signal. To test the sound quality, audio was played either in CD-quality lossless format and 320kbps MP3s.
Sony MDR-NC300D Noise Canceling Earbuds
The Sony MDR-NC300Ds are the Ferrari's of noise-cancelling earphones, you will not find more solidly built and more advanced noise cancellation earphones. Sony sells them directly for $300, or you can grab them from Amazon for a more reasonable $176.
The control unit is a heavy silver metal one that takes one AA battery to power the noise cancellation circuit. Together with the battery, the control unit weighs 59g (2.1oz); in no way it can be called heavy but it's not extremely light either. Note it's more than twice as heavy as the control units of the Audio-Technica or the Panasonic; oh, and a 6th Generation iPod nano only weighs 21.1 grams (0.74 ounce).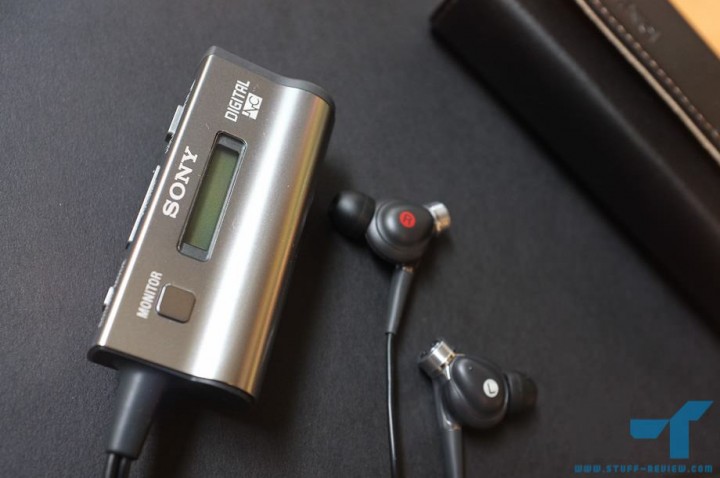 Button controls are digital rather than analogue and your selections are shown on the LCD display. There is a power rocker, to switch the unit on and off, volume buttons and a sound mode button to change from normal mode to an extended bass mode or movie mode. There is also a "NC Optimize" button on the back, which allows you to fine-tune the noise control applied. A very nice feature is the monitor button that brings in outside sound so that you can converse without taking off the earphones. There is also a removable clothing clip.
The earphones themselves have a very unique design. On one side is the rubber tip then they stretch and flatten out and end to a cylindrical protrusion, which houses the microphones that pick-up the ambient sound for the noise-cancelling circuit.
Battery life is below the Audio-Technica and the Panasonic; after 6-7 hours the battery level is showing as low. Also, because there is no LED light, you run a higher risk of forgetting the set ON and ending up with a dead battery. Unfortunately one of the main weaknesses of the Sony's is that sound doesn't pass through if you have the unit switched OFF, so if you run out of battery then you won't be able to use them at all.
In the box you get more than the normal share of accessories; there is an airline adapter, a carrying case and a carrying pouch, an extension cord and a cord adjuster to twist around excess cable. The length of the cable between the left earbud and the control unit is 124cm (4.1 feet) and then another 30cm from the unit to the 3.5mm plug (1 foot).

Comfort
The MDR-NC300D earbuds are large, meaning that you might not be able to wear them and rest your ears on the side of a seat. Because of their weight and volume, they are also easier to knock them out of place as well. Nevertheless they also offer the most fit options, with 7 different sized rubber tips, ranging from very small to very large. Each pair is color matched and with so many options it will be hard not to find your size.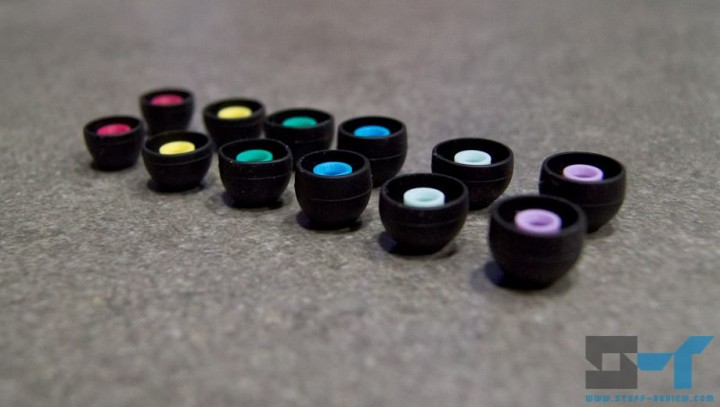 As we've mentioned the control unit is also relatively heavier. As a pair it is not the most comfortable to carry and wear but the multitude of fit options ensures your get a good and comfortable in-ear fit. Just don't drop the control unit or you will get a nasty tag on the ears.
Noise cancelling performance
The Sony MDR-NC300D touts up to 98.4% reduction of ambient sounds and an all-digital noise cancelling design. They offer three different noise-cancellation modes, which the set is intelligent enough to switch automatically: (i) NC A to tackle noise in airplanes, (ii) NC B for buses or trains, (iii) NC C for office environment noise (air ventilation, PC, copier etc.) – this is also the mode used in busy environments such as a café.
The unit displays the mode on the LCD, but you don't have any control over it, not that you would need to anyway. Instead you can actually fine-tune NC performance from -10 to 10 using the NC Optimize button. I've found that adjusting NC even slightly can make slightly audible noise, completely inaudible.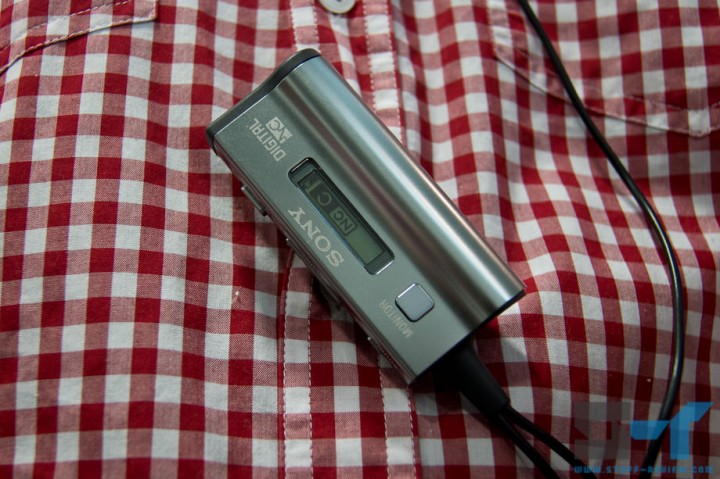 So after all this, how is noise cancelling performance? Well, it's the best of any ANC earbud I have tried. On an airplane they cancel pretty much all noise, about 80-90% I would say. In a busy café, only the sharpest or closest voices can be heard. Finally this was the only headset to effectively cancel out random computer generated noise, around 60-70%. As mentioned adjusting the noise cancelling performance does allow you to get even better results.
If you want the best noise-cancelling performance this is the set to get. A reminder warning, ANC works best on constant frequency noise, so voices will not be cancelled out.
Sound quality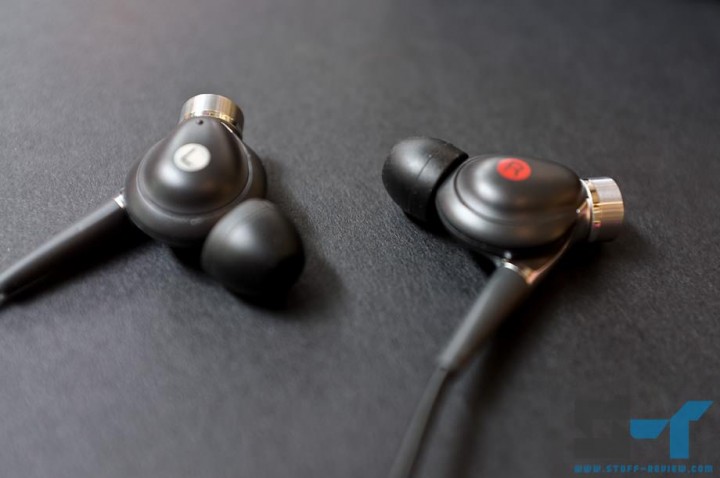 We are sure you won't be surprised to hear that these babies can pump out some good quality 'bassy' tunes as Sony has included some serious 16mm drivers. However, at times the audio didn't sound natural. I would think this is probably because of the heavy noise canceling circuitry that's in action.
This doesn't happen with every song, but sometimes high frequencies sound distorted. It's a shame because the earbuds have the potential, but the sound is occasionally too mechanical.
Also, when no audio was playing, the MDR-NC300D had loudest hissing of the bunch, again because of the hefty noise reduction system.
We've mention that the set offers two additional modes, movie mode works well in enhancing dialogue in movies; I didn't enjoy the sound of the extended bass mode however. I preferred to use the set under the normal mode.
Verdict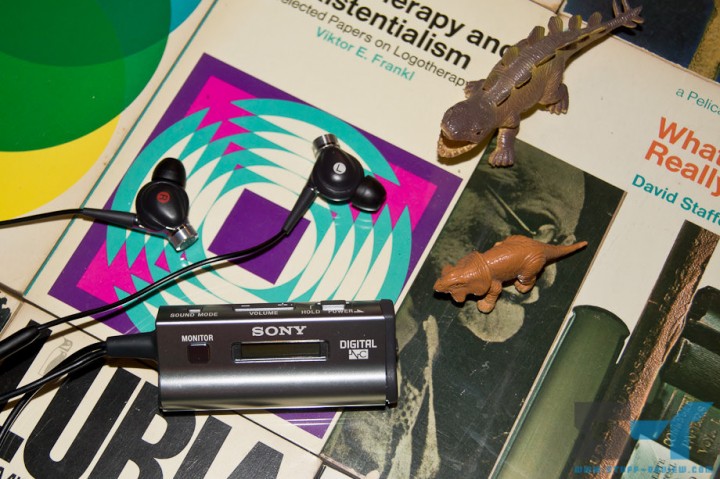 The Sony MDR-NC300D offers the best active noise-cancellation performance you will get from any set of earphones, period. They are expensive and they are built to look and feel premium. They also offer the widest fit selection with seven different sized rubber tips. The monitor button offers a great quick feed of reality.
However, if you are looking for the best and most natural audio performance, they disappoint. Don't get me wrong they don't sound bad, just too mechanical; it's the price you pay for such an advanced noise cancelling performance. They also don't pass sound through in passive mode, so you will be out of luck if you are out of battery, a sad omission. Finally, it's the heaviest ANC earphones set.
Be sure to also check out our review of the Audio-Technica ATH-ANC23 QuietPoint in-ear headphones before you make up your mind.