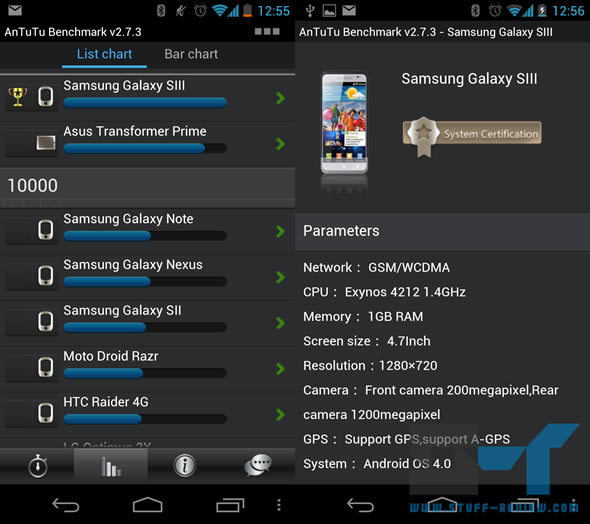 Samsung has managed to build a lot of anticipation for its next Galaxy S smartphone, the often-speculated Galaxy S III, forcing us to bunch up the almost daily rumors into lengthy weekly pieces.
With the London Unpacked event now only one week away, we're starting to see even more evidence of the new device. It has already popped up in videos, wearing a dummy case though, and in a couple of benchmarks.
This latest leak however is pretty tasty as, if proven right, it might have given us a full list of specs for the Galaxy S III. The smartphone has now popped-up in the popular AnTuTu benchmark and has even managed to top the charts, beating the quad-core Tegra 3 powered Asus Transformer Prime tablet.

But there's more, the GSM/WCDMA device is listed carrying a dual-core Exynos 4212 SoC running at 1.4GHz. Though many, including us, had expected a more potent processor inside the SGS3, like the quad-core Exynos 4412 or the dual-core 5250, Samsung is taking a smaller incremental step in terms of processing power from the 4210 found in Galaxy S II and the Galaxy Note.
However, bear in mind that the 4212 is supposed to offer 50 percent better 3D graphics performance over the 4210, which itself was king of the benchmarks for a while. The 4212 is built using a 32nm High-K Metal Gate (HKMG) low-power process promising up to 30 percent lower power consumption than the 4210, that could make our dreams and Samsung's promises for all-day battery life true.
Other specs include a 1GB of RAM, 4.7-inch 1280×720 resolution display, 2-megapixel front and 12-megapixel rear cameras. Oh, and of course it's running Android 4.0 Ice Cream Sandwich.
UPDATE: Samsung has issued a press release stating that:
Already in production, the Exynos 4 Quad is scheduled to be adopted first into Samsung's next Galaxy smartphone that will officially be announced in May.
So there you have it, it's now officially confirmed that the Galaxy S III will indeed be sporting a quad-core processor.