October 11, 2011 at 2:53 pm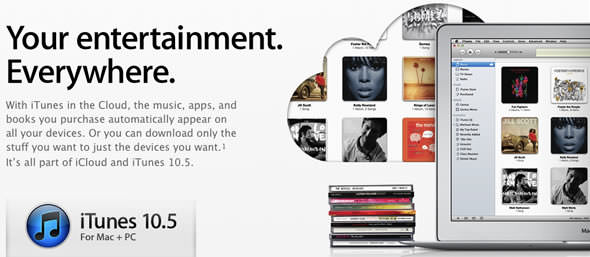 The latest update for iTunes is now available for download, and it should make iTunes fans very happy, especially those anxious to update their iOS device(s) (iPhone, iPad, iPod Touch) to iOS 5 tomorrow.
Version 10.5 brings Wi-Fi syncing for all iOS devices and iTunes in the Cloud, which means that all your Apple Store music and video purchases will be available on all your computers running iTunes. Most importantly the latest update paves the way for iOS 5; if you want to update your device starting tomorrow, you must be running the latest version of iTunes to do so, so our advice is to get downloading.
Finally the update should allow you future access to Apple's $25 a year iTunes Match service, coming by the end of the month. iTunes will scan your library and give you access to high quality copies of your local music stored in Apple's servers, accessible anywhere.
If you already have iTunes installed, click on "Check for Updates" within iTunes or the 'Apple' logo and "Software Update" on a Mac. You can also get it from this link.
Just a heads-up, that tomorrow is a big day for Apple related services and software with the, as mentioned, release of iOS 5, iCloud and an update to OS X Lion 10.7.2.
continue reading